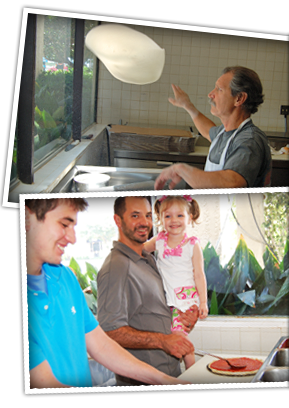 About Us
Alesi Pizza House was established in 1957.
Mariano "Mike" Alesi along with his wife Bertha brought Lafayette the first Italian Pizza House. After relocating to Lafayette with his four sons, Jerome, Mike, Thomas, and Charles, Mike quickly realized that no one in Lafayette knew about pizza. They decided to open their doors on the old Scott highway, at the intersection of Cameron and Bertrand. In 1962, he moved to the current location, on Johnston Street, bringing the famous neon pizza man sign. At the time, Johnston street was considered the country, which worried Mike a bit. But after many years, now they are located at the heart of Lafayette city limits.

The doors were open from morning until night, both Mike and Bertha cooking breakfast lunch and dinner. A cajun girl from Milton had to learn the cherished recipes, brought to the United States from Sicily by Mike's mother, Mariana Alesi. Up until 2003, Mike and Bertha continued to make the homemade sauces from her kitchen across the street. Now, their sons Mariano "Mike" Jr. and Charles, uphold the tradition of homemade sauces.

Still a family owned restaurant, Mike, Charles, and grandsons Mariano "Mari" and Josh Alesi continue to manage the restaurant and carry on the tradition that Lafayette has grown to love.